What's so funny about New York?
It's the setting of iconic sitcoms, home to "Saturday Night Live," the talk shows of Stephen Colbert, Jimmy Fallon and Seth Meyers, legendary comedy clubs and enough comedians and comedy writers to fill the L train, if it ever arrives. The joke's on us, America, and you're welcome.
I was walking down Broadway one sunny afternoon on the Upper West Side in 1978 when I noticed a woman up ahead of me, walking in the same direction. There were other people walking down Broadway that afternoon, but the woman I noticed was the only one wearing a bowler hat. And it wasn't just any bowler, it was a bowler with a hole neatly cut in the back to accommodate the woman's ponytail, which was swinging gently with the rhythm of her walk. I was moving a bit faster than she was, and as I passed her I realized it was Gilda Radner. Of course! Who else would wear that hat? Who else could?
Gilda, an Upper West Sider, was one of the stars of "Saturday Night Live," which had just completed its third season, and her one-woman show, "Gilda Radner – Live From New York," would soon be a smash hit on Broadway. If she wasn't the funniest person in New York at the time (She was!), she was certainly on the short list.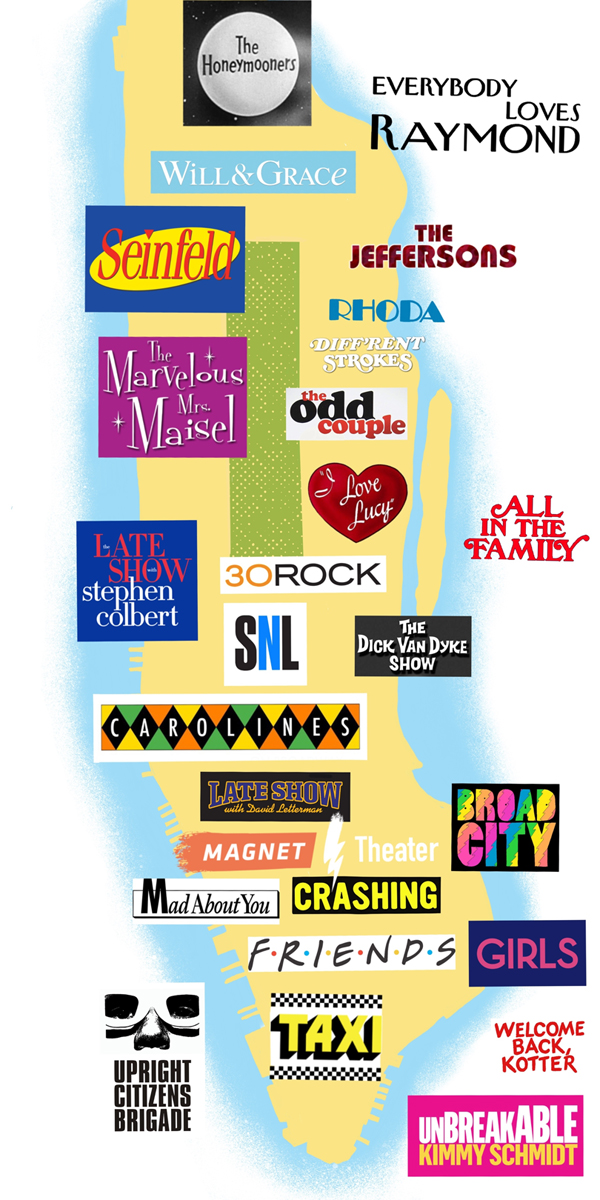 Forty-one years later, and just a few blocks to the north, I watched the current holder of the title, Upper West Sider Jerry Seinfeld, tear the house down at the Beacon Theatre in a set that lasted more than an hour.
This was not TV Jerry, not that there's anything wrong with TV Jerry, the laconic bystander, the sardonic eye at the center of the wacky and absurd "Seinfeld" storm. This was high-energy Jerry, master of the stand up arts, alone on stage in a suit and tie, serving up one superbly written bit after another, each perfectly paced and, yes, acted out. Naturally, his explications of New York life – he's had it with restaurants in general, especially the ones that "drizzle" various fluids on your food – got some of the biggest laughs.
It was Seinfeld's 2019 Beacon residency, which started in January and will continue through November (details here www.jerryseinfeld.com ) that inspired this special section about comedy in New York. When I heard about the shows, I was struck by the fact that the guy who co-created one of the great New York sitcoms of all time, which is set on the Upper West side, who also lives on the Upper West Side, likes to perform at a theater just a few blocks from his apartment. Hey, why go downtown or all the way over to the East Side when you can stay in the neighborhood and work?
That's such a New York thing.
Like fussy Felix Unger moving in with his sloppy pal Oscar Madison when his wife kicks him out. Or the Jeffersons confirming their success in life by moving from Queens to an Upper East Side high-rise. Or Mrs. Maisel coping with her own wrecked marriage by getting up onstage and joking about it. Or the regular comics at the Comedy Cellar in the Village mercilessly mocking Pete Holmes, the out-of-towner trying to make it in the big city on HBO's "Crashing."
As the accompanying map illustrates, and the stories in this section confirm, New York is a funny town. And because it's New York, it's funny in a relentlessly ambitious, edgy and determined way. Being funny is hard work, New York is a hard-working town and funny people come here to work hard at being funny, like the improv performers Joshua Nasser hung out with, and the women comics Emily Mason wrote about. Sure, some of our funny people go to Los Angeles, like Q & A subject Danny Jacobson. But when they get there they make hit shows about New York, like "Mad About You," which Jacobson co-created with Paul Reiser. Of course, no exploration of New York comedy would be complete without a piece that New Yorkers can argue about, and Jon Friedman's theory about "Seinfeld's" parentage takes care of that.
I didn't say anything to Gilda Radner that day on Broadway – New Yorkers leave their celebrities in peace – but that fleeting moment remains one of my fondest memories of those years.
What's so funny about New York? A ponytail sticking out of a bowler hat, for one thing.
Click here to read more about What's Funny!
Comments
MUST READ NEWS
VIDEOS
---