Summer Guide 2017
When your house in the Hamptons doesn't actually exist, staying in the city for the summer becomes a more likely option. But there's good news about sticking around during the sizzling season: you get free time in the greatest town in the world.

Options abound for you — and your family members and out-of-town guests. Don't just let the summer be about stifling subways and online glimpses into other people's getaways. Get out and create memories that are as hot as the sidewalk.
Rubin Museum block party. Photo: Lyn Hughes
FAIRS AND EVENTS
It's not just tube socks anymore
Snack in the City
Taste of Times Square

Event free, "taste tickets" start at $1

Monday, June 5, 5 to 9 p.m.

West 46th Street, between Broadway and Tenth Avenue

timessquarenyc.org/events/taste-of-times-square/index.aspx#.WSRZBFLMy_s

Chow down in the center of it all. More than 40 Times Square area restaurants will show off their wares in the theater district's central spot. Expect musical entertainment too, as befits the dramatic setting.
STAYING OPEN LATE
Museum Mile Festival

Free

Tuesday, June 13, 6 to 9 p.m.

Fifth Avenue, 82nd to 105th Streets

Enjoy free access to participating museums during this three-hour period. In addition to 23 car-free blocks, the Museum Mile Festival features live bands and entertainment and plenty of art in the street. Special activities are set up for kids during this family-friendly event marking Fifth Avenue's role in the city's artistic life.
GREENERY AND CRAFTERS
39th Annual Plantathon and Crafts Fair

Sunday, June 11, 10 a.m. to 6 p.m.

West side of Broadway, 72nd to 86th Streets

mortandray.com/schedule.htm

On this June Sunday, the famous fair company Mort & Ray Productions puts a green twist and a passion for crafts together with idea of a warm-weather fair. It's just one of the Mort & Ray shows this season, which will run through the fall festivals that traditionally appear on Broadway in September.
A VILLAGE GET-TOGETHER
Washington Square Fair

Saturday, Aug. 26, 10 a.m. to 6 p.m.

Waverly Place

Clearviewfestival.com/events/

Clearview Festival Productions produces fairs throughout the summer, right through to this late-August event in the fabled setting at Washington Square. Go online to learn more about Clearview's all-around-the-boroughs lineup, including stops on First Avenue on June 3, on Liberty Street on June 25, at Union Square on July 2 and on Third Avenue on Aug. 20.
POWER OF PRIDE
The Pride March

Sunday, June 25 at noon

nycpride.org/events/the-march

If it's the last Sunday in June, it's time for pride. The parade steps off at noon on Fifth Avenue and 36th Street, winding down to a Christopher Street finale. But the parade it just one Pride event in a city that marks the occasion all year long. See other ways to spice up June at nycpride.org/events/ — from a VIP rooftop party on June 24 to a Patti LaBelle appearance the night before.
SING OUT LOUD
Summer on the Hudson: #TotallyPublicKaraoke

Friday, July 7, 6 to 10 p.m.

Pier 1 in Riverside Park South, West 70th Street

nycgovparks.org/events/2017/09/01/summer-on-the-hudson-totallypublickaraoke

Do you like doing a little karaoke with your pals at the local pub? Then take it to the next level with this Summer on the Hudson event. Also on Aug. 4 and Sept. 1.
A STREET'S BEAT
Rubin Museum Summer Block Party

Free

July 16, 1 to 4 p.m.

West 17th Street between 6th and 7th Avenues

rubinmuseum.org/blockparty

The creation of art, performances and in-gallery sound experiences are all part of the Rubin Museum of Art's plans for its Summer Block Party. Special museum tours, family programs and community tables featuring neighboring and Himalayan community groups will be there too — rain or shine.
UPGRADING THE FAIR
Pop Up New York events

Free

popupnewyorkevents.com

Pop Up New York aims to upgrade the familiar fairs of old. The goal: "creating a new wave of the street experience." That means teaming with varied neighborhood restaurants. In Manhattan through November, there's a lineup of eats-oriented events covering Midtown East, the Upper West Side, the Upper East Side, the East Village and Washington Square. See the website for dates and details. Things kick off on June 2 with "Midtown Munchies" on East 52nd Street, between Third Avenue and Lexington.
Declan Conlon in "My Eyes Went Dark"
THEATER
In this city, the show goes on all year long
HAIL 'CAESAR' OUTSIDE
Shakespeare in the Park

Delacorte Theatre, Central Park

Free

publictheater.org/Free-Shakespeare-in-the-Park/

You can go from talking about politics and power in D.C. to talking about politics and power in William Shakespeare's "Julius Caesar." Through June 18, see the Public Theater's production of "Julius Caesar." Check online for the four methods of securing tickets. And then do it all again for the theater's second summer show, "A Midsummer Night's Dream," which runs from July 11 to Aug. 13. All performances start at 8 p.m.
'EYES' OPEN AT 59E59
My Eyes Went Dark

$35

59E59, 59 East 59th Street

59e59.org/moreinfo.php?showid=284&utm_source=59E59+Calendar&utm_medium=referral&utm_term=na&utm_content=na&utm_campaign=MULTI

Summer's for light comedy only? No way. Matthew Wilkinson's play, after making a splash in Edinburgh, comes to 59E59, an off-Broadway treasure close to home. Based on a true, searing story, a family is lost in a plane crash — and a father goes for revenge. The drama runs through July 2 at 59E59, which since 2004 has been showcasing great works from around the world.
ONE-ACTS ACTING UP
The 36th Marathon of One-Act Plays, Ensemble Studio Theatre

$25 ($20 for students and seniors)

545 West 52nd Street

ensemblestudiotheatre.org/currentseason/

Series A ended earlier this week. But the good news is that you still have time to catch Series B and Series C, two different nights of one-act plays. Known for provoking thoughts and fine acting, the Ensemble Studio Theatre offers its alternating summer shows through June 30.
SHAKESPEARE REIMAGINED
That Which Remains

$20 online and $25 cash-only at the door

IRT Theater, 154 Christopher Street #3B

improbablestage.org

From June 14 through June 24, Improbable Stage offers its take on William Shakespeare's divinely fraught "Titus Andronicus." The idea here, Improbable Stage promises: "utilizing movement" as the primary vocabulary in an hour-long show, and examining "whether or not revenge is sustainable if it is the only dish on our plates."
SEE SHOWS, TALK BACK
TRU Voices New Plays Reading Series

Free, but reservations required.

Soho Playhouse, 15 Vandam Street

truonline.org

Add meaning to your Mondays with three upcoming play-reading presentations by Theater Resources Unlimited (TRU). RSVP at least a day in advance for the 7 p.m. performances by calling 212-714-7628 or emailing TRUVoicesReservations@gmail.com. "Catharsis," a violently funny dramatic comedy, plays June 12. A romantic comedy, "Moonshadow," runs June 19. And "Radio Galaxy," on June 26, examines what happens when a 17-year-old science prodigy faces the risks of a bone marrow transplant to help his biological father's daughter. The purpose of the series is to develop new plays — and a talkback will be held after each show.
DOWNTOWN, DRAMA ABOUNDS
Ice Factory Festival

June 28 through Aug. 12

New Ohio Theatre, 154 Christopher Street

NewOhioTheatre.org

The Obie Award-winning Ice Factory Festival will present seven new works over seven weeks, starting June 28. The first one, "Fernando," tackles the international art world with a tale that mixes romantic farce with a psychosexual thriller. Summer in the city has its drama — and then six more of them. This year's Ice Factory also includes "Fridays on Ice," a late-night performance series.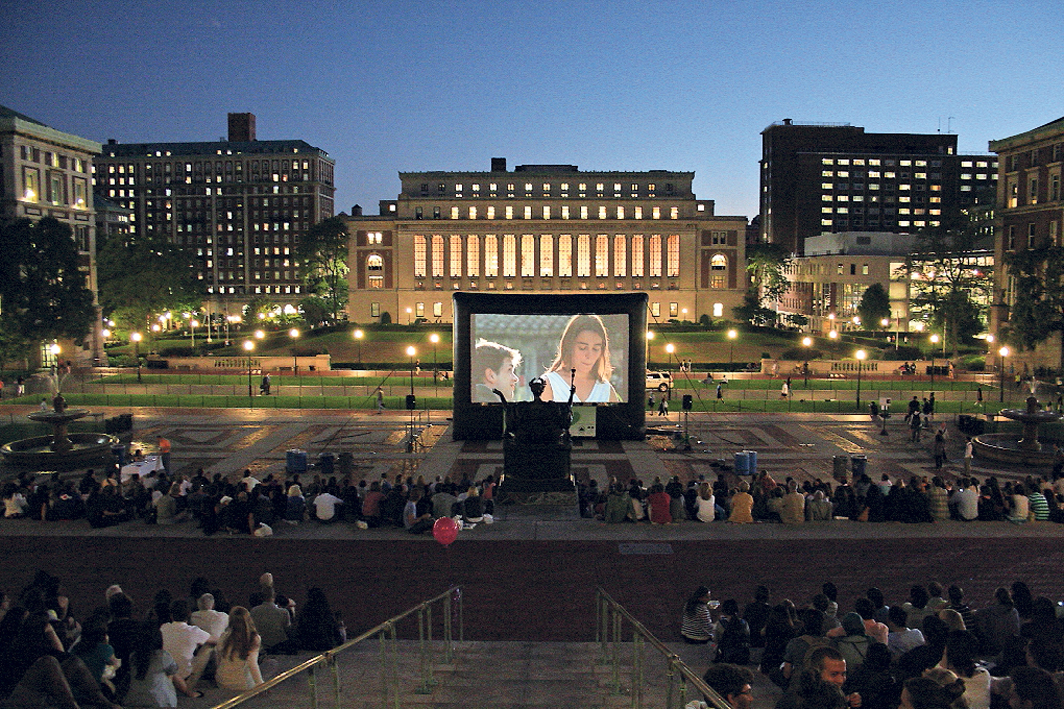 Films on the Green at Columbia. Photo: N. Charles
MOVIES
Watch films indoors and out
MOMA MOVIE MAGIC
Modern Matiness: Becoming Jennifer Jones

Museum of Modern Art

Adults $12, seniors $10.

11 West 53rd Street

moma.org/calendar/film/3844?locale=en

How did Phylis Lee Isley turn into Jennifer Jones, who won an Oscar for "The Song of Bernadette," her 1943 smash? Take a trip into film history and rediscover a great American actress, thanks to MoMA's summer film series.
FRENCH FILM FESTIVAL
Films on the Green

City parks

Free

face-foundation.org/films-on-the-green/

The outdoor French film festival has already begun its 10th anniversary in city parks, thanks to the Cultural Services of the French Embassy, FACE Foundation and NYC Parks. Two movies are coming up in Washington Square Park: "Tey (Today)" on June 9 and "La Traversée de Paris" on June 16. Then it's on to Pier 1 in Riverside Park at 70th Street and Columbia University — and throughout the boroughs.
MOVIES THAT MATTER
Human Rights Watch Film Festival

$14, $11 for seniors and students

Lincoln Center, West 65th Street

filmlinc.org/festivals/human-rights-watch-film-festival/

Human Rights Watch Film Festival 2017 kicks off on June 9 at 6:30 p.m. with "Nowhere to Hide," about a male nurse at work and also raising children in Iraq. The next day there's "Bill Nye: Science Guy," a look at the TV personality and his campaign to defend scientific evidence of climate change.
MUPPET MAGIC
Summer on the Hudson — Pier 1 Picture Show: The Muppets Movie

Wednesday, Aug. 2 @ around 8:30 pm. Arrive early.

Free

West 70th Street in Riverside Park South

nycgovparks.org/events/2017/08/02/summer-on-the-hudson-pier-picture-show

"The Muppets Movie" is just one of seven special films slated for this West Side pier. The series runs from July 5 with "Blazing Saddles" through Aug. 16 and "Beetlejuice."
HEAD BACK TO THE 1970s
New York in the 70s

Wednesday, July 5 through Thursday, July 27

$14 (members $8)

209 West Houston Street

filmforum.org/series/new-york-in-the-70s-series

Programmer Bruce Goldstein is known for finding famous and undiscovered flicks — and ones that you didn't even know you wanted to see. He's at it again, with "Gloria" and "Serpico" and "Taxi Driver," among others. Expect to see dirt, grime, crime — and talent and stunning visuals.
Brian Stokes Mitchell. Photo courtesy of Feinstein's/54 Below
MUSIC
The summer scene features tunes for any taste
MITCHELL MAKES MEMORIES
Brian Stokes Mitchell

$90 and up

June 14 to 24, 7 p.m.

Feinstein's/54 Below, 254 West 54th Street

54below.com

Broadway biggie Brian Stokes Mitchell shows that his warmth and talent extend to solo shows in his latest appearance at the cabaret mainstay Feinstein's/54 Below. The two-time Tony winner will be accompanied by a trio, including pianist Tedd Firth.
STILL IN TUNE
Dick Hyman Forever!

Tuesday, July 18 @ 7:30 pm

From $65

92nd Street Y, Lexington Avenue @ 92nd Street

92y.org/event/dick-hyman-forever

See a jazz master at work — and at play. Dick Hyman marks his 90th year with a special concert, including appearance by fellow pianists Bill Charlap and Ted Rosenthal. Also on the scene: vocalist Sandy Stewart. It's a birthday with some summer swing.
MUSIC'S OWN MONTH
New York Music Month

Prices set at individual venues around the five boroughs

nymusicmonth.nyc/schedule/

The Mayor's Office of Media and Entertainment has teamed with NY is Music to brand the month of June as New York Music Month. That means there's a website chronicling a host of upcoming moments running through the summer, including Sheryl Crow's "Be Myself" tour at the Beacon on the Upper West Side on June 28 — and beyond.
OPERA'S 'GLORY'
Opera Upper West at West Harlem Piers

$30 to $45

nyoperafest.com

Right now opera's getting an immersive twist this summer at the West Harlem Piers, when Opera Upper West's production "Glory Denied" is presented aboard the aboard the Baylander IX-514, a decommissioned U.S. Navy helicopter carrier from the Vietnam era. On June 9 and 10, things will be site-specific for the show by New York composer Tom Cipullo. "Glory Denied" is based on the oral history by Tom Philpott, described by Oliver Stone as "one of the most honest books ever written about Vietnam." There's a pre-show 1960s social, beginning on the flight deck at 7:30pm. The opera starts at sunset, about 8:30 p.m., on jungle deck.
BILLY'S IN RESIDENCE
Billy Joel at Madison Square Garden

July 5 and Aug. 21

$65 and up

ticketmaster.com/billy-joel-madison-square-garden-new-york-ny/venueartist/483329/735392

He's 68 and he's using the Garden as his main piano-playing place – and his fans are visiting en masse. The musician in residence keeps up the "Piano Man" shtick all through the summer.
ELVIS IS IN THE PARK
Elvis Costello & the Impostors

SummerStage, Central Park

$55

cityparksfoundation.org/event/elvis-costello-imposters/

Elvis Costello, a living musical landmark, is making music news lately by focusing appearances around his 1982 album, "Imperial Bedroom." On June 15 at a 6:30 p.m. concert in the park, he will get a welcome from his huge age-range of fans.
CATCH THE BEAT
World Beat: Percussive Sounds from Around the Globe

$35, $10 for students

Saturday, June 17 at 6 p.m.

120 Claremont Avenue

bsmny.org/worldbeat

The percussion program at the Bloomingdale School of Music has come up with an appropriate way to raise funds — and attention. The school's playing host to what it calls a "multicultural, educational and artistic journey exploring rhythm." Purchase tickets on the website.


'RIVER' RUNS IN LOWER MANHATTAN
River to River Festival

Free

lmcc.net/program/river-to-river/

The Lower Manhattan Cultural Council's annual River to River Festival brings joy to Lower Manhattan each year. This year the fun starts on June 14, with dance, music, theater arts and visual arts presentations. Expected highlights include: "A Marvelous Order," an opera about the epic planning battle between Jane Jacobs and Robert Moses, and "Harbored," a site-specific show taking up residence at the Winter Garden in Brookfield Place. RSVPs for some events can be accepted starting June 1, and everything's free.
A CENTER'S CENTERPIECE
Mostly Mozart Festival

Lincoln Center venues

lincolncenter.org/mostly-mozart

$60 and up, check Rubinstein Atrium for discounted tickets

From July 25 through Aug. 20, the famous Mostly Mozart festival will live up to its name — but don't forget the "mostly," since this year there are "Mostly Schubert" concerts and, once we get to August, a "Contemporary Classical" component that proves it's not a contradiction in terms.
KIDS
A city full of adventure, for children and their parents
MAKE A SPLASH
Free outdoor pools

nycgovparks.org/facilities/outdoor-pools

Swimming isn't just for when you leave town. The city's public pools reopen on June 29, and they're dotted around the five boroughs. In Manhattan, there's the Asser Levy Pool at Asser Levy Place and East 23rd Street, the John Jay Pool east of York Avenue on 77th Street, the Lasker Pool at 100th and Lenox Avenue, the Tompkins Square Pool on Avenue A between East 7th — among others. Check the website for rules and hours.
LEARN TO DANCE
Ballet Hispánico Los Explorers camp

$425 per weeklong camp, $350 for shorter class

167 West 89th Street

ballethispanico.org/classes/preschool-camps

At a premier Latino dance organization, Los Explorers are the three- to eight-year-olds who this summer will experience a multi-sensory journey through the rhythms, cultures and dances of Brazil, Argentina and Spain. And this is just one of many class options, since the dance school has offerings for students of all ages. See online at ballethispanico.org to learn more about those.
A WAY TO GO ROW
Row New York

Camp: $750

3579 Harlem River Drive

rownewyork.org

Since 2004, Row New York has offered summer rowing camps for sixth- through twelfth-graders. In Manhattan, the three-week camp rows out of the Peter Jay Sharp Boathouse off the Harlem River Drive. Check out the above website to learn about the range of camp options for students of various ages.
CREATE A YOUNG ARTIST
Arts in Action summer camps

711 Amsterdam Avenue at 94th Street

One camp: $880

artsinactionvap.org

Arts in Action Visual Arts Program, headquartered on the Upper West Side, is a non-profit aiming to educate children of all ages about the fine arts, regardless of economic status. The founder and director, Angela Tripi-Weiss, started the program when the funding for the art teacher at her daughter's school was eliminated. There are four different summer sessions slated, with size kept small so each camper's needs can be addressed. Classes in the well-lit studio are held in the mornings or the afternoons, and there are weekly visits to the Metropolitan Museum of Art.
MOVING MOMENTS
Let's Dance!

Children's Museum of Manhattan

212 West 83rd Street

Museum admission: Children and adults, $12, seniors $10

cmom.org

The Children's Museum of Manhattan, starting on July 1, will be home to a daily dance party. Also, expect special dance programming and performances. Sundays, starting July 2, will be the day for "Sundays Were Meant for Dancing!" That series of 30- to 40-minute shows, at 2 p.m. and 3 p.m., will highlight dance history and include audience participation. From June 29 to Aug. 31, "Throwback Thursday" will let families learn about dance history through interactive workshops.
OLD ORGAN, NEW MEMORIES
Camp Rhythmo

$545

The Hughes Center, 32 Prince Street

camprhythmo.com

From July 24 through 28, students in grades 2 through 7 can learn about the pipe organ, or the "king of instruments" as its fans call it. The range of experiences offered is extensive: physics lessons about sound, movement and yoga, singing and vocal workshops. It's clearly not your average camp.
THE SEAPORT SCENE
Migrants and Millionaires exhibit

Adults $12, seniors and students $8

South Street Seaport Museum, 12 Fulton Street

southstreetseaportmuseum.org

Teach your child that the Seaport is more than just a shopping and dining destination. Check out the South Street Seaport Museum's new exhibition, "Millions: Migrants and Millionaires Aboard the Great Liners, 1900-1914," opening June 23. The exhibition examines the dramatically different ways that new Americans arrived, giving visitors a look at first-class versus third-class passage. The museum's open Wednesday through Sunday, 11 a.m. to 7 p.m.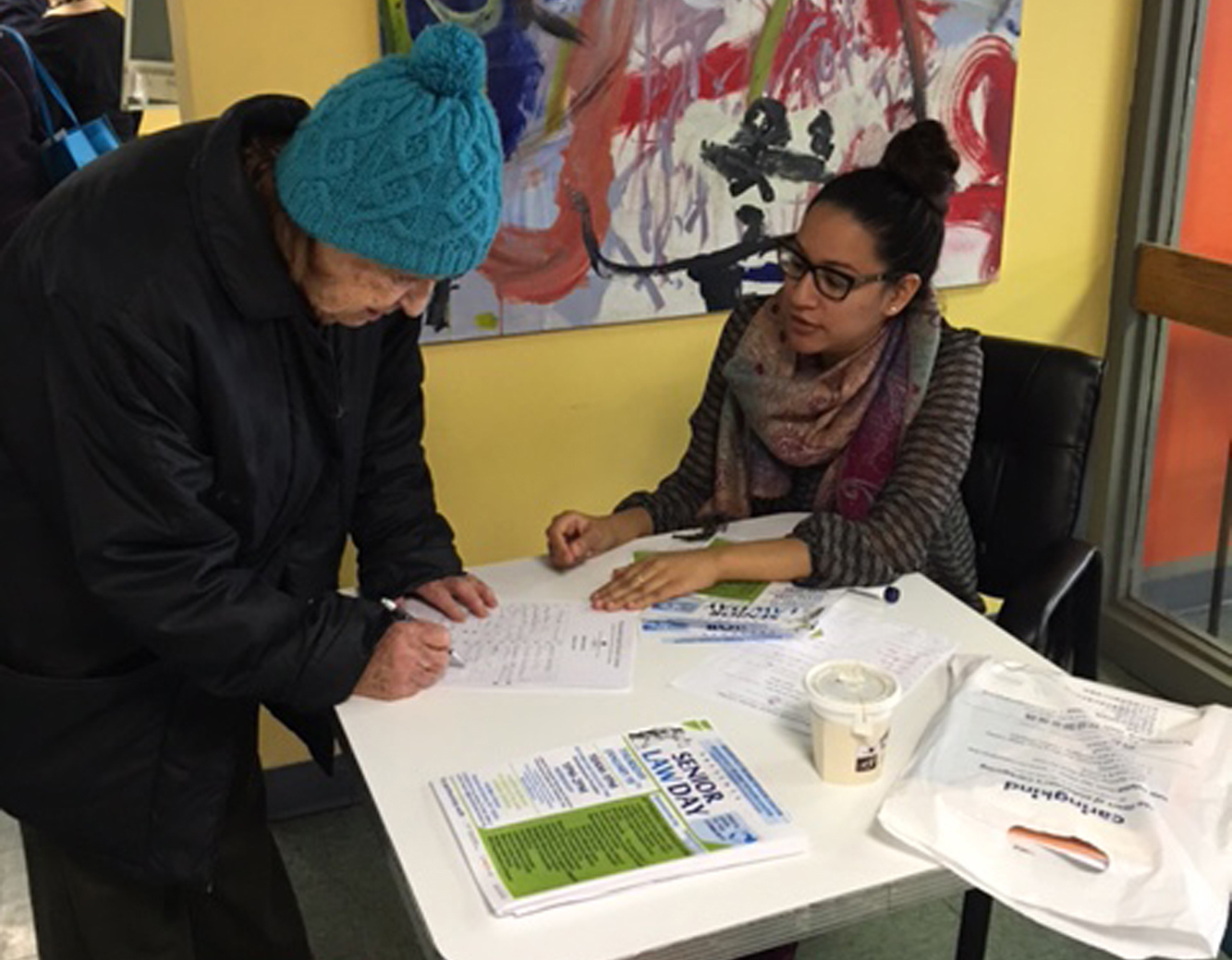 Senior law day. Photo courtesy of Carter Burden Network
SENIORS
For longtime New Yorkers, a season to get out and get going
BECOME A LEGAL EAGLE
Senior Law Day

Free

Monday, June 12 at 11 a.m.

Carter Burden/Leonard Covello Senior Center, 312 East 109th Street

Registration is required for the second Carter Burden Network Senior Law Day. Here's a chance for free legal and financial resources and information, designed for area seniors and their families. Robert Freedman hosts "What Every Senior Needs to Know about Legal and Financial Planning." To register or for information, contact Alexandra Jurenko at 212-423-9665 ext. 458 or atjurenkoa@carterburdennetwork.org.
KEEP MOVING
Summer on the Hudson: Senior Movement

Thursdays, 6:30 p.m.

Free

Pier 1 in Riverside Park South at 70th Street

nycgovparks.org/events/2017/06/15/summer-on-the-hudson-senior-movement

From June 1 through July 27, seniors can take to this waterside space under the tutelage of Naomi Goldberg Haas. She'll lead a dance workshop for seniors of all ages and abilities. Celebrate moving in h2 and creative ways.
WEATHER-READY
Carter Burden Network emergency preparedness workshop

Free

Carter Burden Luncheon Club, 351 East 74th Street (between First and Second Avenues)

Wednesday, June 28 at 11 a.m.

Walk-ins are welcome at this preparedness workshop. The focus here is on getting ready for extreme weather conditions. For details, contact Abigail Unger by email at ungera@carterburdennetwork.org.
GO TO GRACIE
Tours of Gracie Mansion

Weekly tours this summer at 10 a.m.

Free

nycgovparks.org/events/2017/05/23/tour-of-gracie-mansion

It's your city, your mayor and your it's your city's mayor's house. To learn more about the historic 11-acre site that traditionally — and currently — hosts the mayor's family, RSVP for a tour by visiting nyc.gov/gracietour. There's even a new exhibit marking the 75th anniversary of the historic structure.
Photo: Hypnotica Studios Infinite, via flickr
DAY TRIPS
When you just need a few hours away
BRIEFLY TO THE BEACH
Sandy Hook Beach

$15 per-car fee for drivers. For ferry, see Seastreak.com for schedules and costs.

sandy-hook.com/sandy-hook-information.shtml

By hopping on the Seastreak ferry, a 40-minute ride from the Wall Street area to your ultimate summer destination, you can start a journey in the morning and be back in the city for dinner. Your day at the beach could include surf casting, swimming, munching or just admiring the stunning scenery of a nearby natural wonder.
A HOPPER HAPPENING
Edward Hopper House

Nyack, N.Y.

$7 ($5 for seniors, kids free)

edwardhopperhouse.org

Artist Edward Hopper's birthplace, built by his grandfather, is a lovely landmark. Lucky for visitors, though, it's also home to new exhibitions and programs, a place where the iconic American artist's work is celebrated — and inspires others. Through Aug. 6, the work of Mercedes Helnwein, under the title "Chaos Theory," eyes the potential power of seemingly mundane moments.
SEEING SHAKESPEARE
The Shakespeare Theatre of New Jersey

$49 and up

shakespearenj.org

Daring and diligent in its commitment to the classics, The Shakespeare Theatre of New Jersey means theatrical thrills for visitors. It's worth a trip, and starting July 5 the theater is conjuring up Molière's rarely produced "The Bungler," a comedy about a clueless young lover. In Madison, there's a charming downtown, too, where you can get a pre-show burger at Poor Herbie's and wander through a used-books paradise, Chatham Bookseller.
TAKE A REVOLUTIONARY JAUNT
Museum of the American Revolution

101 S. 3rd St., Philadelphia, PA

Adults $19, seniors $17, youths $12

http://amrevmuseum.org

You need to get a timed ticket for entry to the Museum of the American Revolution, which earlier this year became the latest high-profile addition to Philadelphia's already impressive lineup of museums. Objects, artworks and manuscripts come together at the museum, which investigates what the revolution was, what happened — and who exactly those revolutionaries were.
WALKWAY'S A WONDER
Walkway Over the Hudson in Poughkeepsie, NY

Free

Entrances on either side of the river

walkway.org

Is it crazy to drive two hours to take a walk? Or to take MetroNorth up to the station near the Walk Across the Hudson? Not if you throw in a nice lunch nearby. Since October 2009, crowds have been coming to walk from Poughkeepsie in Dutchess County to Lloyd in Ulster County — over the Hudson River. It's simple, it's stunning (even on a cloudy day) and it's something every New Yorker should do at least once.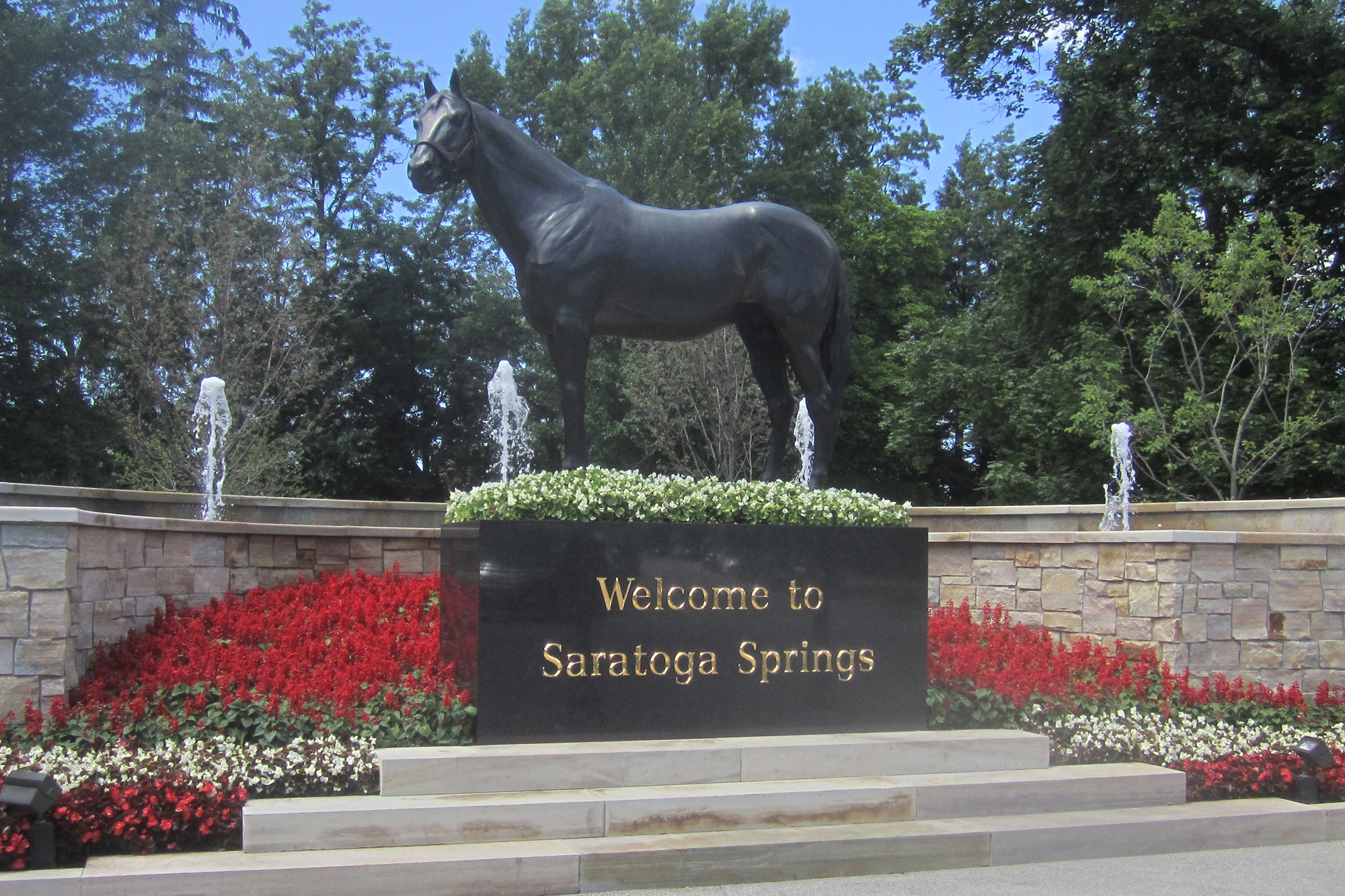 Photo: Peter via Flickr
ROAD TRIPS
When you just need a few days away
GOING TO THE GROVE
Ocean Grove, NJ

The talk these days is about always-evolving Asbury Park, where gays spruced up the houses and Bruce Springsteen's always in the ocean air. But neighboring Ocean Grove has small-town pleasures (think ice cream in an old-style venue like Nagle's cafe), a focus on family fun and, yes, that beach. The Melrose Inn, a recently spruced-up mainstay, is a warm home base for your journey.
SUMMER: SARATOGA'S SEASON
Saratoga Springs, NY

saratoga-springs.org

Browse at Northshire Books, an outpost of the fantastic Vermont-based bookstore. Eat at Comfort Kitchen, where charm and cuisine mix well and the proprietors emphasize "real American food." Stay right downtown at the Saratoga Arms. The town's famous for racing, but you can also pass the time doing what feels like nothing — and everything.
MUSEUMS, MUSIC AND MORE
The Berkshires, western Massachusetts

berkshires.org

"Picasso: Encounters" just opened this month at the Clark Art Institute, but it's just the most recent reason to explore the beautiful visual arts landmark — and its environs. Pay the $20 entrance fee (free for kids) and a grand collection of European and American paintings, sculpture, photos and decorative arts. And then there's all that other stuff in the region: fine food, cute bed-and-breakfast options and the Williamstown Theatre Festival. The theater's season kicks off late this month with playwright Jen Silverman's new comedy, "The Roommate," with S. Epatha Merkerson and Jane Kaczmarek.
Photo: Amanjeev, via flickr
HEALTH AND WELLNESS
Exercising your right to finding better health — and inspiration
MIDTOWN YOGA

Solstice in Times Square: Mind Over Madness Yoga

Wednesday, June 21 in Times Square

Free

timessquarenyc.org/events/solstice-in-times-square/index.aspx#.WSNQR1LMy_t

Starting at 5 a.m. with the early risers, eight different yoga classes will mark the summer solstice in dramatic fashion — in a dramatic venue. Do your downward dog right in the middle of Times Square.
TENNIS ANYONE? TENNIS EVERYONE!
Courts, New York City Parks

Locations include: Central Park, Riverside Park, East River Park, Queensboro Oval and Washington Metro Park

nycgovparks.org/facilities/tennis

Most tennis courts in city parks are open from 8 a.m. until dusk, leaving plenty of time slots to share with your fellow New Yorkers. See the city parks website to learn about purchasing a permit, and a look at the rules and regulations. There are courts around Manhattan, and indeed the five boroughs. The city uses its site to tell about the different surfaces, locations and phone numbers, and where lessons are offered.
TAKE TO THE STREET
Summer Streets

Free

Aug. 5, 12, 19

For walkers who like a car-free environment, these are three special Saturday mornings. From 7 a.m. to 1 p.m., from the Brooklyn Bridge to Central Park, participants walk, run, bike and just enjoy a dramatically different sense of the city streets. The event extends along Park Avenue and connecting streets, with easy access from all points in New York City.
DO SOME GOOD
Help the DEP to clean up beaches

You can help prevent beach closures by monitoring floatables, waterborne waste materials. If you're the kind of person who wants to do something active and helpful on a day off, give an hour or two and help the city's Department of Environmental Protection. Especially needed: volunteers to conduct surveys along the East River, including the Brooklyn Bridge, South Street Seaport and Battery Park, and along the Hudson River, including the Chelsea Pier area, the 60th Street Sanitation Department building and the 79th Street Boat Basin and the Harlem River. If you have any questions, please contact: Robert Gans, Volunteer Beach Floatable Program Coordinator at (212) 889-4216, cell (917) 658-2380 or email ozonelayerllc@me.com.
Comments
MUST READ NEWS
A Sephardic boom on the UES


Syrian Jews relocate from Brooklyn to the East Side — and a major new communal institution rises up to accommodate them
VIDEOS
---