A kinder, gentler, cleaner dump
The garbage depot on the East River, one of the most reviled projects on the UES, may not be quite as dreadful as feared — but just-revealed sanitation truck routes will stress out plenty of neighbors
Photos




Twilight falls on the East 91st Street Marine Transfer Station on Sunday, March 4th. Loathed by locals since it was proposed nearly 15 years ago, the MTS will now process far less trash than originally projected -- and the number of garbage trucks rumbling across the East Side will also plummet. Photo: Douglas Feiden



"Simply put, less trash means fewer trucks."
Sanitation Commissioner Kathryn Garcia
The mountains of trash that will be hauled to the East 91st Street Marine Transfer Station when it opens in 2019 have been dramatically reduced, new data from the city's Department of Sanitation shows.
Municipal garbage trucks will still thunder across the Upper East Side as they travel to and from the MTS — but the size of the planned fleet will be sharply scaled back, according to DOS projections.
In a January 25 letter sent to East Side elected officials, Sanitation Commissioner Kathryn Garcia summed up the bottom line: "This is not the East 91st Street Marine Transfer Station of years ago," she wrote.
The missive, provided to Straus News by East Side City Council Member Ben Kallos, who has long battled to kill the project, is perhaps the only good news the MTS has generated since it was first proposed in 2004.
"Thanks to your work — and more importantly, the great recyclers in your community — the amount of refuse processed at the MTS will be lower than anticipated during the planning process," Garcia wrote.
Flash back to 2003, when then-Mayor Michael Bloomberg initiated the planning for a facility that would process all residential waste from Community Boards 5, 6, 8 and 11 — an area bounded by 14th Street on the south and 135th Street on the north, Eighth Avenue to the west and the East River to the east.
At the time, those four districts produced more than 720 tons of refuse per day, and initial blueprints said an average of 72 garbage trucks, or as many as 130 in some cases, would traverse the East Side daily to get to the MTS, the "tipping destination."
Those plans, with only minimal tinkering, remained on the drawing boards for 15 years. Now, the numbers have come back down to earth.
REWARDS FOR RECYCLING
"Last year, the same [four] districts produced less than 540 tons per day," Garcia wrote. That's a significant decline of 25 percent. "Simply put, less trash means fewer trucks," she said in the letter.
Accordingly, based on the most recent DOS analysis, the number of sanitation trucks processed at the facility will bottom out at 37 on Fridays in March – and peak at 63 on Tuesdays in May.
"On most days, the MTS will receive, on average, between 40 and 50 trucks," the commissioner wrote. "In addition, approximately eight trucks will dump litter-basket waste overnight."
That's a drop of more than 35 percent from earlier projections for the $232.7 million project.
Zero trucks would have been better, Kallos said. Still, the impact of the facility won't be as horrible as expected. "For as long as I can remember, residents have been afraid of hundreds and hundreds of trucks driving through every narrow street in the neighborhood," he added.
New Yorkers can take a bow: The falloff in truck traffic — toxic at worst, intrusive at best — and accompanying declines in diesel fumes, air pollution, vehicular bottlenecks and safety risks to children at play, would never have happened if hundreds of thousands of East Siders hadn't radically altered their garbage-disposal habits.
"The good news is that the neighborhoods I represent are doing their fair share to reduce the amount of garbage they send to the landfill," Kallos said. "Every single resident is doing their part to save our environment, save our planet and help make the MTS obsolete."
The community deserves plaudits for curtailing trash output, and DOS gets credit for making recycling "easier than ever," said Alida Camp, the chair of Community Board 8.
But the trend towards zero waste also raises serious questions about the site's long-term utility and future disposition, she added.
"At our February meeting, CB8 approved a resolution calling on the mayor to conduct a feasibility study into viable options for repurposing the MTS into a space the city can enjoy — as opposed to its use as a transfer station," Camp said.
Other huge issues remain:
* Health impacts. "Residents with asthma or other respiratory ailments must be protected from pollutants that harm their health," said Assembly Member Rebecca Seawright. She said ongoing air-monitoring should be made public to see if air quality is being degraded.
* Commercial waste. DOS has mulled charging private haulers for using the MTS in off hours starting in 2020. Carol Tweedy, former executive director of Asphalt Green and chair of the MTS Community Advisory Group, says it's "encouraging" a confirmed plan in writing now commits the city to caps on municipal trucks. The problem? "What we haven't seen in writing is anything about commercial trucks," she said.
* Truck routes. Long kept under wraps, the first DOS maps to surface show how sanitation trucks would go up First Avenue and down Second Avenue to get to and from the MTS. They'd also cross on 86th Street and 90th Street and traverse York Avenue between 86th and 91st Streets.
"Children play right in those areas, and kids going to and from schools cross at those intersections," said Kelly Nimmo-Guenther, founder of Pledge 2 Protect, the lead community group fighting the MTS. "Truck-turning points are always the most dangerous, so the route is still a huge outstanding concern ... Don't put the lives of our kids at risk."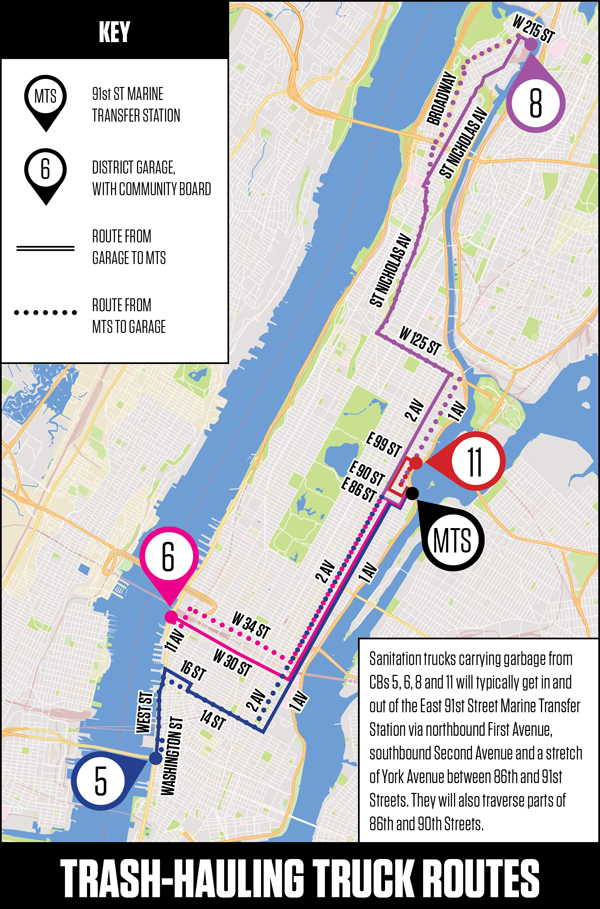 Comments
MUST READ NEWS
VIDEOS
---