Consigning the future
Michael's, the high-end, secondhand-apparel shop, makes its move into a new era, relocates four blocks up Madison Avenue, gives up its second-floor perch, occupies ground-floor digs
Photos




The family roots of today's Michael's Consignment on Madison Avenue go back five generations to 1902, when this photograph was taken of Simon Kosofsky's Cast-Off Clothing & Furs at 753 Sixth Avenue at West 25th Street. Kosofsky was the great-great-grandfather of one of the two current co-owners of the shop. Photo: Courtesy of Michael's Consignment







Two classic mom-and-pop businesses at 1041 Madison Avenue are being uprooted after a real estate developer bought the building just north of 79th Street last year. Michael's Consignment, which had occupied the second-floor space since 1954, moved four blocks up the avenue on May 6, and Gentile's Fine Food, which has been on Madison since the 1960s, will lose its ground-floor space when its lease expires next year. Photo: Courtesy of Michael's Consignment







Laura Fluhr, the president and co-owner with her daughter Tammy of Michael's Consignment, in a 1988 photograph taken in the second-floor shop at 1041 Madison Avenue. After a real estate developer bought the building last year, Michael's moved four blocks up the avenue to new ground-floor space on May 6, ending a tenancy that began in 1954. Photo: Courtesy of Michael's Consignment



"We didn't think in terms of saving the Earth. But we were always sensitive to the concept of recycling previously owned goods."
Laura Fluhr, co-owner of Michael's Consignment
Once upon a time in the consignment business, a stigma was attached to the purchase and sale of women's clothing that could suitably be called "gently used," "lightly worn" and "previously owned."
In fact, the mother-and-daughter team that owns and runs Michael's Consignment recounts a common occurrence from years past when a customer would recognize a friend or neighbor coming into the shop.
"She would quickly retreat into the dressing room," recalls Tammy Fluhr-Gates, the 41-year-old co-owner of the Upper East Side store. "And she'd stay in the dressing room until that friend left the shop!"
Concealment isn't necessary anymore. "Consignment has evolved," said Laura Fluhr, the 70-something mother of Tammy who has helmed the store since 1985. "It's become more mainstream, less self-conscious."
The proof? It's writ large in two entryways:
Founded in 1954 by the late Michael Kosof — the father of Laura and grandfather of Tammy — Michael's was one of the first consignment shops in America, and also one of the priciest, and for 64 years, it maintained a discrete second-floor entrance at 1041 Madison Avenue just north of 79th Street.
"Michael made a strategic business decision to take second-floor space, and he did it for a reason," Tammy said. "It was the smartest business model out there at a time consignment wasn't socially acceptable as it is today."
Society eventually caught up. Recycling came into vogue. Sustainability became a buzzword. Retailers who placed environmental watchfulness at the core of their companies, consciously or not, thrived.
And lo and behold, it turns out that's exactly what Michael's and two of the family's predecessor businesses had been doing for the past 116 years — recycling clothing in the secondary marketplace.
ENVIRONMENTALISTS, BEFORE IT WAS COOL
It's a tradition that dates back to at least 1902, when Tammy's great-great-grandfather, Simon Kosofsky, established Cast Off Clothing & Furs at 753 Sixth Avenue in Chelsea.
It continued into the depths of the Depression when Tammy's great-grandfather, Aaron Kaye, who changed the family name, opened the Ritz Thrift Shop at 107 West 57th Street in 1935 — to sell "temporarily orphaned minks" who left "good homes on Park Avenue."
Then, Michael Kosof, who changed the family name yet again, brought sustainability to the Silk Stocking District when he ventured to Madison Avenue two decades later.
"We didn't think in terms of saving the Earth," Laura said. "But we were always sensitive to the concept of recycling previously owned goods, and it had very much the same effect."
Which takes us up to that second shop entrance.
In September 2017, Naftali Group, a midtown-based developer, closed on the $21 million purchase of 1041 Madison, a five-story, mixed-use building, as part of an assemblage of four adjoining buildings, between 1039 and 1045 Madison, it has been piecing together for an unspecified residential project.
Naftali's real estate play means that Michael's had to find a new home. It also created uncertainty over the future of Gentile's Fine Foods, another multi-generational mom-and-pop, which is housed on the first floor of 1041 Madison and first set up shop on the East Side in 1927.
At the same time, at least two other upscale retailers are also expected to be impacted: Davide Cenci, the Italian menswear brand, located at 1043 Madison, and Eileen Fisher, the women's clothier, at 1039 Madison.
Michael's was the first of the affected enterprises to make its move, and while the reinvention of the block was the catalyst, the owners say it led them to reconfigure their business in a fashion they had long contemplated.
"For many years, I thought about a ground-floor entrance," Laura said. But as she got older, it became less urgent. Then one day, out of the blue, the forced relocation presented an opportunity, she added.
Agrees Tammy, "The truth of the matter is that it pushed us to do something we've wanted to do for quite a while." Remaining in one place since 1954, enjoying a great run and commercial success, "You get comfortable," she said.
Now, the two women were ready to walk down those second-floor stairs for the last time.
A PINK BIRKIN WITH OSTRICH
The formula would remain the same — the buyer gets a luxury product in mint condition for less than retail price, the seller monetizes an item she no longer wants, the merchant makes the match, reaping a percentage of the sale — but all parties would now enter the new place of business at street level.
So Laura and Tammy found a new home and inked a deal fairly quickly. Saturday May 5 was the last day at the old location, and on Sunday May 6, they completed the move, four blocks to the north, to a wide-open, sun-lit 1,200-square-foot shop at 1125 Madison Avenue at 84th Street.
It's not a discrete hideaway. It wasn't meant to be. It has two corner windows that give it an inviting aspect, and it's just south of the city's original Le Pain Quotidien at 1131 Madison Avenue.
A soft opening is planned for this week with a grand reopening slated for May 17.
"I'm not going to lie to you," Tammy said. "My store is not cheap."
Indeed, the most expensive item now on sale in the shop — a mini-Hermes Birkin bag, black with gold hardware — will set you back $15,000. The store record? Another Hermes Birkin, pink with ostrich leather and silver hardware, which went for $18,000.
Still, not all of Michael's items will break the bank: The average sticker price is $300, and the least expensive item on the sales floor is a $15 bracelet from Alex & Ani.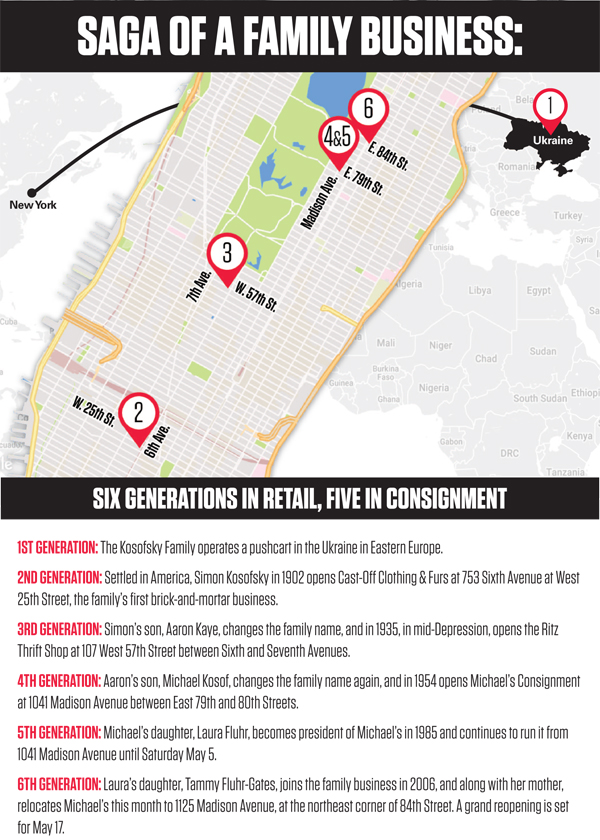 Comments
MUST READ NEWS
VIDEOS
---