The Doctor Is In – Get a NY Medical Marijuana Prescription Online
SPONSORED CONTENT - Wondering how to get a prescription for medical marijuana in New York? NuggMD is a service that lets you see a doctor and get approved online!
The restrictions on New York State's medical marijuana program are slowly being lifted, the rules are being relaxed, and the list of qualifying medical conditions are expanding. Now it's easier than ever to consult with a New York medical cannabis doctor to see if you qualify, since the entire process can now be done online! What could be better?


Get a NY Medical Marijuana Prescription Online
How about a trusted online provider of
New York medical marijuana cards
and a process that can be completed in minutes, from the privacy of your own home, via your laptop, PC, tablet or smartphone?
Welcome to future of medical marijuana certifications; welcome to
NuggMD
, a service now available in New York. For nearly three years, NuggMD has helped close to 75,000 medical marijuana patients in other states obtain their medical cards online and find 420-friendly licensed doctors and dispensaries.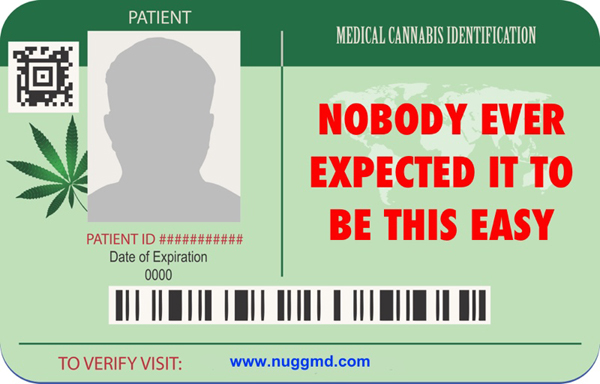 Here's How Easy the Online MMJ Process Is
First let's find a compassionate cannabis doctor through NuggMD's website because less than 1% of all NY practitioners are registered with the NYS Medical Marijuana Program. If you look for a brick-and-mortar
420 evaluations
office through Google Search, good luck.
"Marijuana evaluations
near me" will produce a list of unreliable offerings that are sure to waste your time.
Next you'll need to prove you're a legal resident of New York and you're eligible for the state medical marijuana program. Check the state website to find a list of conditions that qualify.
Your doctor's consultation is done online via video chat, and NuggMD makes the whole process simple and quick. You can ask the doctor anything you want about your medical condition and the cannabis treatments.
NuggMD does everything to help you get approved for a medical marijuana card, and the you'll pay just $199 for your initial certification (and $99 for each yearly renewal) by the New York State Department of Health (DOH) Medical Marijuana Certification Program. If you don't pass the medical evaluation, you pay nothing.
Why hassle with finding a 420 doctor and waiting in a crowded waiting room? NuggMD's online system is run like a well-oiled, punctual, virtual doctor's office where you get in and out quickly… not to mention, the company plans to expand its
marijuana delivery
marketplace to the Empire State in the coming months as well!
Sign up now, and get access to the incredible range of cannabis products on the market – flowers, edibles,
vape cartridges
, tinctures, oils, rubs, and more!"
Comments
MUST READ NEWS
Music school migrates south


After 93 years in Turtle Bay, big change is afoot as institution hires a new executive director and prepares to sell its building, purchase a new space and launch an...
VIDEOS
---